TFI is a grantee for the DCF Foster Care, Reintegration and Adoption Case Management Services grants, for 26 counties in Southeast and Southcentral Kansas. Starting on Oct. 1, 2019, when children are removed from their homes by the courts in Kansas, they are placed into DCF custody, and referred to TFI in these counties for case management services. TFI will work with children and their parents towards addressing the risk and safety issues that led to the removal, with the goal of returning the children home safely and quickly. For children who cannot return home, TFI will work towards a timely adoption or other permanency.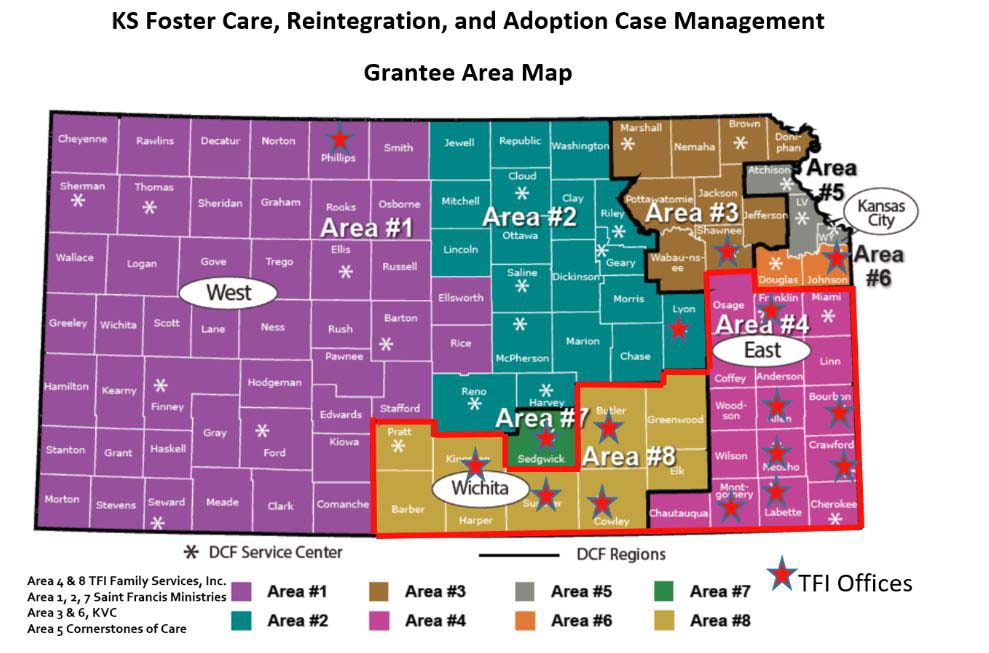 Family Reunification
We believe every child should have a childhood where they are nurtured body, mind and soul; are safe, protected and loved; and have hopes, dreams and opportunities. Unfortunately, there are times when a child's parents coping skills are overwhelmed, and they are not able to meet their child's needs. In these situations, it becomes necessary for the courts to temporarily remove the child from their home. Usually, it is in the child's best interest to be reunified back with their parents as quickly as possible when the parent's situation stabilizes. TFI strives to ensure children safely return home within 12 months of removal.
While children are in out of home care, TFI looks for relatives or family members who the child knows and loves who would be willing and able to care for the children while the parents are working towards completing the tasks to get the children back home.
Relative/Kinship Care
TFI has a long history of successful outcomes in placing children with their relatives or family friends (aka non-related kinship care) while their parents are unable to care for them. The loving families provide a home that is more familiar to the child, and decreases the trauma the child and parents both experience from the child being removed from their home. Finding caregiving relatives, family friends, teachers or neighbors is one of the first priorities for TFI when a child is referred for case management services. If you know of a child that you want to provide a home for, or support to the family, please call us at 833-7FOSTER.
Aftercare
TFI offers six months of aftercare support services to families achieving permanency through reintegration, permanency custodianship or adoption, as well as teens who leave DCF custody through independent living services. A case manager is assigned to each child in aftercare, and case management services are provided to ensure the safety and stability of the child in that home. The case manager connects the family with community services including medical or behavioral health services, education or legal assistance.
Behavioral Health
A recent Kansas stakeholder survey found the number one barrier identified to positive child welfare outcomes is Parental Substance Abuse, and the number three barrier identified was Child Behavior Problems (KS Strong Fact Sheet, 2019). TFI offers a variety of behavioral health interventions along with individual and family therapy. Two specialized services include Kansas PMTO and Substance Abuse Counseling services
Kansas PMTO
Kansas PMTO is an evidence-based parent training program developed over 40 years and proven to help parents strengthen their families. It is also known as Generation PMTO or Parent Management Training-Oregon model. The program is rated as level 1 (well-supported by research evidence) with a high relevance to child welfare on the California Evidence-Based Clearinghouse for Child Welfare.
TFI serves on the Kansas PMTO Steering Committee.
Numerous studies have been conducted demonstrating the effectiveness of PMTO in Kansas (see Akin et al. research studies and Kansas Intensive Permanency Project Team Celebrates Fourth Year).
The goals of Kansas PMTO are:
Improving parenting practices.
Reducing family coercion.
Reducing and preventing internalizing and externalizing behaviors in youth.
Reducing and preventing substance use and abuse in youth.
Reducing and preventing delinquency and police arrests in youth.
Reducing and preventing out-of-home placements in youth.
Reducing and preventing deviant peer association in youth.
Increasing academic performance in youth.
Increasing social competency in youth.
Increasing peer relations in youth.
Promoting reunification of families with youth in care.
Providing PMTO to families whose children are at risk of entering the foster care system will allow many Kansas children to remain safely at home, without the trauma of being separated from their families.
Substance Abuse Counseling
TFI can complete assessments for substance use for parents and youth eligible for the service. If determined appropriate, Substance Abuse Counseling is available to clients qualifying for the service.
Adoption through Foster Care
When children cannot safely return to their parents, adoptive families provide a safe, loving and nurturing "forever" home. Hundreds of children in Kansas are currently waiting for a forever home, and you can meet some of these children on our Meet the Kids page and at the AdoptKSKids website. Most children who are adopted through TFI and in the state of Kansas are adopted by their foster parent or a relative who has been providing care.
The greatest need for permanent, loving homes is for older children and sibling groups. TFI believes there is a home for every child, and TFI works to locating and selecting the best possible family for a child, rather than finding a child for a specific family.