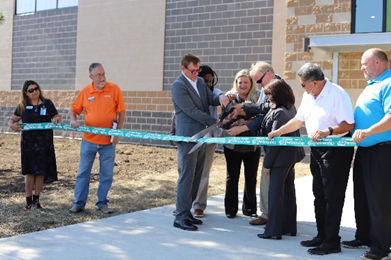 [vc_column width="3/4″]
New facility to benefit local Kansas children in need
TOPEKA, Kansas  –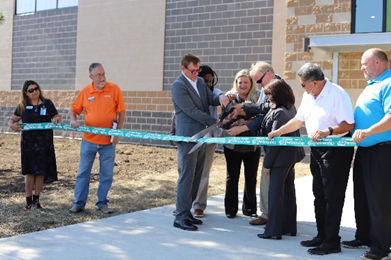 Last Friday, Oct. 8, TFI celebrated the grand opening of a new Health & Wellness Center for Pathway Family Services, a Topeka-based Psychiatric Residential Treatment Facility (PRTF). The commemorative event included a check presentation from the Kansas Gas Service and a ribbon-cutting ceremony with The Greater Topeka Partnership, The MCP Group, Schwerdt Design Group, Deputy Mayor Mike Padilla and other donors and community partners. The MCP Group also presented a donation of much-needed items to TFI's Independent Living program.
The new facility, which has been under construction since February 2021, will serve as a safe, secure location for the children we serve to exercise, hold group therapy sessions and large family events, among many other uses.
"It has been a dream of ours for a long time to build a wellness center for the Psychiatric Residential Treatment Facility—a place where the kids will be able to play, grow and learn," TFI CEO & President Michael Patrick said. "We are so grateful to all of the donors, foundations and partners who supported us throughout this endeavor."
The 7,257 square foot Health & Wellness Center features a sports floor made partially of rubber for safer play. The Wellness Center will also feature a Gamezone interactive system with Wi-Fi, virtual reality for therapy sessions and colors selected by our therapy team that stimulate the brain for physical activity.
The new Gamezone activity will allow children to play the piano, dance through swimming fish or have a competitive game of soccer. The focus on adding FX Gamezone is to increase daily physical activity, support physical development, provide healthy interaction and development of social skills.
The facility also includes six basketball goals, opportunity for three volleyball courts, a kitchen, and a fitness room that could be used for yoga and meditation.
TFI's capital campaign to raise funds for the Health & Wellness Center is still open and accepting donations. Our goal is to receive an additional $500,000 to go towards this facility. Donate today to make a lasting impact on the lives of hundreds of children. If you're interested in donating, please email Fund Development Specialist Sheila Kearney at skearney@tfifamily.org. [vc_column width="1/4″][vc_single_image image="24917″ img_size="300×200″][vc_single_image image="24918″ img_size="300×200″][vc_single_image image="24919″ img_size="300×200″]
---
TFI is a leading child welfare agency providing experience, compassion, quality services and care. We provide various types of services in the community and have over 50 years of experience in providing child welfare services including foster care services, group home care, case management, independent living, psychiatric residential treatment center, behavioral health, adoption services, visitation services, and aftercare services.