Holiday Tips and Activities
Christmas can and should be one of the most wonderful times of the year for children—excited about the arrival of Father Christmas and the magic the festive period brings. But for many looking after children and young people, Christmas can be a stressful and difficult time of year.
In the build up to Christmas, all around us the vision of the perfect family enjoying the festivities is portrayed – not only through the media, but through conversations with friends about their plans for the holiday, with whom they'll be going to visit and what activities they have planned with their families. For a looked after child who has been separated from their birth parents this can evoke powerful emotions, both positive and negative, and stir up memories and feelings from their past.
With this in mind, we've come up with simple things you can do this Christmas time to help looked after children cope and make this festive season a happy one…
Talk about Christmas: A child in care may not have a good understanding of the Christmas holiday, what it means and what traditions it brings in your home. Take time to read a few books in the run up to Christmas and be ready to hear about their past Christmases. Encourage them to share good memories, then work out ways that traditions can be integrated. Let them know what to expect, even if it's as simple as decorations, Christmas music, stockings and lots of family meals!
Maintain routine where possible: Christmas can be a hectic time of year, with gifts to be bought being left until the eleventh hour and plans being changed last minute! It's important to remember the importance of planning and how children thrive on routine. If for any reason routines can't be maintained, talk the potential changes through with your foster child, discuss any worries they may have and outline the steps you can both take to help them cope.
Involve everyone: Make your home inviting and cosy together! The key is to ensure that the children or young people see the change in setting as positive and a fun activity to do together.
Write a letter to Santa: For younger children, if this is their first Christmas with you, it's important that Father Christmas knows where to find you!
Anticipate Christmas to be an emotional time: Expect Christmas to be an emotional time for the children you look after, especially for those who may be unable to see their family. All families have their good moments, even if they are few in number and children may want to talk about these and share memories with you. Take time to listen and enjoy time to bond.
Prepare for guests: Introducing children or young people to extended family or family gatherings can be a daunting experience for them. Planning around family gatherings is important – let them know who's coming and when. Sometimes, it helps to talk about the visitors in advance, so that your foster child feels a familiarity and level of comfort before they have arrived. If the children or young people want to social that's great but remember to give them time and space to get comfortable at their own pace if they would rather.
Catherine Mure-
Oklahoma Director
---
KANSAS NEWS & UPDATES
KANSAS CARE PROVIDER OF THE MONTH
Richard (Jim) and Kerry Tice have been foster parents for only two years but they have already had an impact on the lives of several children they have taken into their home. They worked closely with a relative out of state so a relationship could be developed between them and a child in their home prior to him moving there, allowing weekly phone calls and face time on a regular basis along with working together on parenting him.
They currently have 3 foster children 4 and under and 3 children of their own. They have gone above and beyond helping out with transportation in getting the kids to family visits that occur 20 miles away and currently Kerry is transporting one of the children daily 40 miles round trip in the morning to take her to preschool and again at noon to pick her up just so she can continue to attend the same preschool. They are amazing at keeping appointments current and providing everyone with needed documentation along with making sure the kids get the services they need.
They are always willing to help out in an emergency or respite situation without much notice and do it with a smile!
They family works hard to set good examples for the children, provide consistency and structure yet take the time to do fun activities with the children.
They are a very giving family and try to also have time to help out others when they can. Jim and Kerry are a great example of what a foster parent should be.
Thank you Jim and Kerry for all the time you give to the children, for making sure they have a stable loving environment and that they feel part of a family.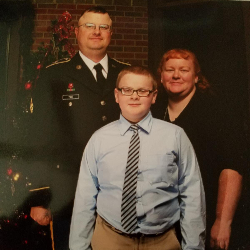 ---
NEBRASKA NEWS & UPDATES
We'd like to welcome our new Nebraska Foster Care Worker, Kristen Greenough, to TFI! Kristen has a home office in Aurora and will be reaching out to our families soon to introduce herself and schedule visits. Thank you!
---
OKLAHOMA NEWS & UPDATES
NEW STAFF
Jose Ramirez, Supervisor, Tulsa
My name is Jose J. Ramirez and I married to my wonderful wife Kristen. We have three children together. Jocelyn is 4 years old; Riley is 19 months and Logan is 3 weeks. My children are my passion and I love to spend every single minute with them, they are a blessing. I have resided in Oklahoma for about five years now and I have enjoyed the mild winters and hot summers, unlike Chicago where is very cold most of the year.
I have been working with children for over 10 plus years and I have a long history of working with children in state custody. I believe that I am in a unique position to help this cohort and I cannot imagine doing anything else. I believe that no matter our background, each child should have the right to be a child.
Carmen Parra, Foster Care Worker, Tulsa
Carmen Parra is a Foster Care worker for TFI. Carmen has previously worked at a different foster care agency with 5 years of experience in the field. Developing strong relationships is the foundation of everything she does, professionally and in her personal life. She received her Bachelor of Arts in Salta, Argentina. Outside of work, she enjoys gardening and spending time with her great-niece.
OKLAHOMA CARE PROVIDER OF THE MONTH
Jenny has been fostering for almost three years. She has always wanted to be a foster mother as far back as she can remember. Fostering is something that she says she has been called to do. She has been blessed to be able to take care of children that need a little extra love, attention and guidance. She is able to be the voice of children that are unable to speak for themselves. Jenny stated, "There is nothing more rewarding than to see children in a happy, healthy loving family environment watching them flourish." Jenny's biological children are selfless with passionate hearts and give her the strength to do what she loves the most, "being a mother."
Jenny and her family love spending time at the lake, cooking out, and hiking. Jenny also stated that "playing and watching baseball and singing" are things that are a "must" in her family. She keeps up with all the court dates, family team meetings as well as making sure that both of the children in her care are able to visit with their biological parents as often as possible. Jenny is great at bridging with the biological parents. Jenny is a pleasure to work with and always makes time for case workers to come in her home and inform them of what has been going on the previous month. Congratulations, Jenny Prater, for being TFI's Foster Parent of the Month. It is well deserved!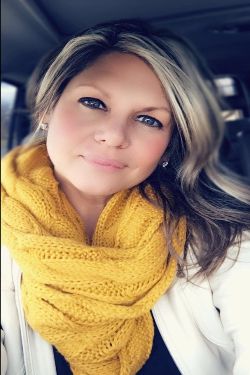 ---
TEXAS NEWS & UPDATES
TEXAS CARE PROVIDER OF THE MONTH
Richard and Keri Hunt have been foster parents with TFI since January 2019. They have since adopted three children, a sibling set, in October and currently have an opening for another child in their home. They continually make sure the children placed in their home receive all the therapy services they need and ensure continuity in the care. They have been a willing participant in all of the children's activities placed with them and help each child have a since of normalcy. They are willing to provide respite for other foster families and go above and beyond with their support of their community.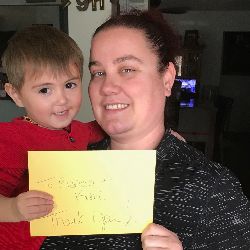 ---
RECRUITMENT MOMENT
There is a Christmas book out called "Earl: The Christmas Tree Spider" by Erin Ferguson. The story follows Earl the spider when his home in a Christmas tree gets cut down and put in a family's home. So, here is Earl looking out at this family and this beautiful home. You would think that he would want to find a way out but what he really wants it to be a part of the family. The story is all about home, joy and acceptance. We have so many children that want a home and even though it is Christmas and Santa is near and the story of why we celebrate Christmas is everywhere they are still longing for home.
As you all know we are always needing more home and more families like you. If you know of anyone please talk with them. If talking to people isn't your strong suit get in touch with your worker or the community Liaison coordinator in your area. We will take the lead and we will make sure that we tell them you thought of them and put you on the referral.
From the TFI Family to yours we wish you the Merriest of Holidays and the Happiest of New Years!
---

15 Years
Foster "Ray" and Sharon Young
14 Years
Madelyn Crawford
13 Years
James and Michele Ozbun
10 Years
Brian and Jacqueline Atkinson
5 Years
Larry and Laura Cardenaz
Mary Fulghum
1 Year
John and Delana Terminato
Kaysley Kinkead
Wesley and Tabatha Roberts
---
Every time you make a purchase on Amazon, TFI can earn money and participating does NOT increase the price you pay for your purchases.
Amazon donates 0.5% of the price of our eligible AmazonSmile purchases to the charitable organization of your choice – if you register the charity of your choice and start shopping at www.smile.amazon.com. Please register by clicking the red button below and select TFI as a charity you wish to support!
TFI will benefit from all future purchases on Amazon!
Start Shopping today!
---
Please visit https://tfifamily.org/donations for more information on this and other ways to help.
---